Sign Up & Contracts
Signing up for spring launch and fall haul-out is done directly from the homepage of our website. Once the form is completed and submitted, it is delivered immediately to Rick Chapman's email.
Sign up will be available in March and August, respectively. The specific date will be included in our Monthly Newsletter and reminders will be sent out in advance of the dates as well. This is the first opportunity for you to turn in your contracts and choose one of the six weeks you would like your boat launched or hauled-out. The contracts are numbered as they arrive by e-mail, and this number becomes your overall seniority for the launch or haul-out of your boat. The contracts are separated by the week requested, and you are placed on the schedule in contract order.
Please also join us for a launch and haul-out event luncheon. These dates will be included in our monthly newsletter and the website will include a place to RSVP for the events.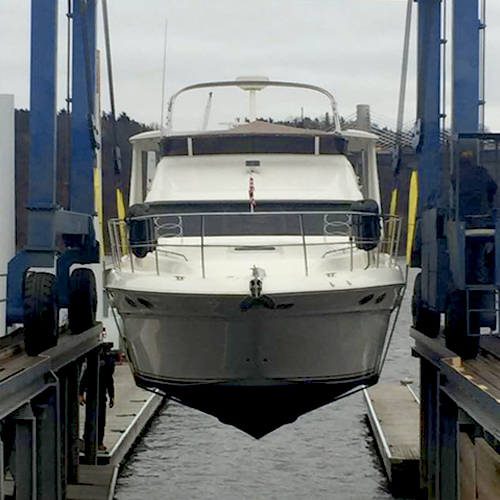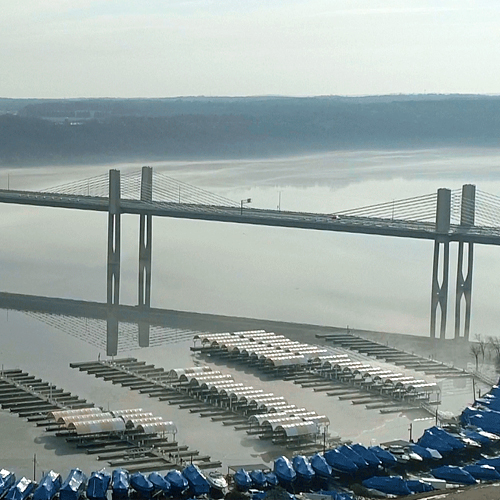 Scheduling
The next part of our process is what really sets us apart. On the Wednesday prior to each week of the schedule, Rick Chapman, our General Manager, calls each boater (in contract order) to schedule the actual day and time for the launch or haul out of your boat. The first boater has their choice of 40 time slots during their week, and the last boater gets the last time slot available for that week. Although this scheduling system is not always convenient for the operation of the marina, it shows a level of customer service and commitment not found everywhere.
View Schedule
Spring Launch & Summarization
Spring launch begins the second week of April each year (ice permitting). Our official spring launch schedule lasts six weeks. Our technicians summarize each boat as it gets launched. All regular work orders are placed on hold during our six-week spring launch schedule.
Boat owners must have their boats ready for launch no later than the Sunday afternoon prior to the week the boat is scheduled for launch. It is important that we have:
the keys and the proof of insurance
payment for the spring launch work order invoice
payment of any other outstanding charges on all accounts, including assessments for slip owners
Fall Haul-Out & Winterization
Winterization request forms should be returned as quickly as possible. This will enable Jon to create a work order for haul-out and winterization. Just like spring launch, all accounts must be cleared prior to haul-out. This includes any outstanding assessments, work orders, electrical charges, and the actual haul-out and winterization work order.
Boaters can save money and save our time by draining their fresh water tanks and completing a final pump out prior to haul-out. We apply a sticker to the boat to indicate the final pump out has been done.
Remember, whatever items we winterize in the fall must also be summarized by us next spring. The charges for summarization are included on the spring launch work order.
Shrink Wrap Recycling
Shrink-wrapping is offered to our boaters by our two preferred vendors, The Boat Doctor and JL Boat Works. These two companies have been chosen because they each provide exemplary service, offer competitive pricing, and have proven that they will stand behind their work. Please return your shrink wrap contract directly to the vendor of your choice or to the marina office. Each vendor follows our week-by-week haul-out schedule so boats can be wrapped as they are hauled-out.
All shrink wrap gets recycled. The best way to help with the recycling process is to allow the company that shrink wrapped the boat to unwrap the boat. There is no charge for this service. Please feel free to call them to schedule your boat to be unwrapped. If they do not hear from you, they will have your boat unwrapped sometime during the week prior to your launch week. Please do not place shrink wrap in our dumpsters.
Resources
The Boat Doctor (Dominic) 612-309-8702
JL Boatworks (Jason) 651-260-2788
Haul Out & Winterization Request